Contactless Mastercard
credit cards and PIN authentication
Since June 2019, all new Mastercard cards for individuals and businesses allow contactless payments.
With the release of contactless cards, the way of verifying transactions at points of sale has also changed – instead of a signature, you need to enter your PIN to use the new cards at points of sale.

For a contactless payment of up to HRK 100 in Croatia, tapping the POS device with your card is sufficient, while all other transactions on POS devices and ATMs have to be verified with your PIN.
A contactless card has all the functionalities of your current card and will retain the same PIN and card number. If you do not know the PIN to your Mastercard credit card, please contact us.

Current Mastercard cards can be used without any changes (including signature verification) until they expire, after which you will receive a new contactless card with PIN authentication.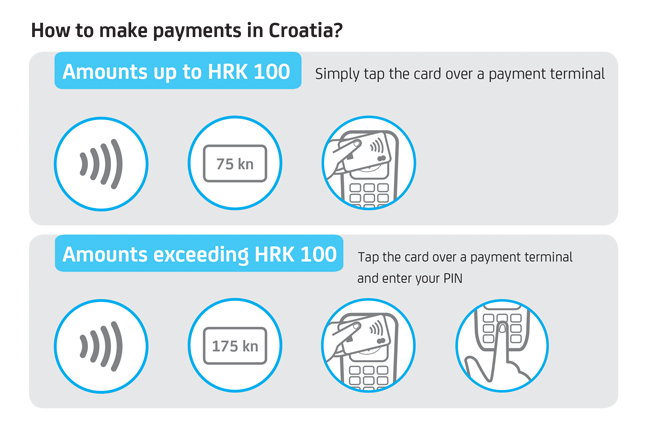 It is good to know:

When you receive your contactless Mastercard card, and after you activate it using the usual channels, you need to make the first transaction by inserting the card into a POS terminal or an ATM and authenticate it with a PIN. Contactless payment will only be available after you have done this.
The maximum amount of an individual contactless transaction without PIN authentication in stores depends on the country. In Croatia, it is HRK 100, but it may be lower or higher in other countries.
Our contactless service has been implemented according to the highest card companies' security standards. Contactless transactions are carried out via the same protected networks that are used for usual transactions. The speed of contactless transactions prevents the detection of card data.
Zaba cards are protected by daily limits which define the number and the amount of daily transactions. Contactless payment transactions and cash withdrawals can be made within the daily limit for contactless transactions that has been defined for all cards which can be used as contactless cards. Bank clients can define the card limit in line with their needs and spending habits.