Garmin Pay™
No wallet, no cash, pay with your watch!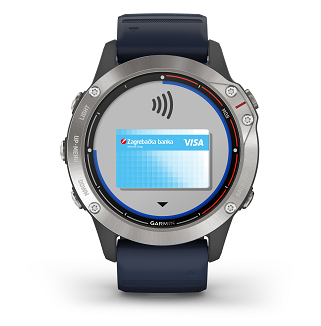 Garmin device is already an important part of your daily life, and with Garmin Pay solution for contactless payments, you will use it more than ever.
Whether you want to get some coffee after your morning run or do a quick purchase at a nearby store, Garmin Pay allows you to quickly and easily pay with your watch. You don't have your wallet? No cash on you? No problem! Pay simply by putting your Garmin watch near the card reader!
It's a faster, safer and easier way to pay, ideal for people who are always on the move.


Where can you use Garmin Pay?

At almost all stores that accept contactless one-off payments. Just put your Garmin watch near the card reader and payment is done in an instant.


Quick and easy to use!

You can easily access Garmin Pay in just a few taps on your compatible Garmin watch. Enter your password, select a Zagrebačka banka card from your virtual wallet, then put your wrist next to the card reader and that's it.
The payment process is similar to conventional plastic cards. In the watch menu, select Wallet, enter the PIN if necessary, and put the watch near a POS device.


Cards you can use for payments:

• Visa debit card for a current account in euro
• Visa debit card for a giro account in euro
• Visa debit card for a multi-currency account.


You can find the current General Terms and Conditions of Zagrebačka banka here.



Frequently asked questions
How to activate Garmin Pay on your device?
What are the technical requirements to activate Garmin Pay?
What are the fees for Garmin Pay service?
What if I lose my Garmin watch?
Is the use of Garmin Pay safe?