A sustainable Bank
We create tangible value for all our stakeholders by providing real solutions to real needs.
This is what we mean by Banking that matters. We are One Bank, One UniCredit - a simple, successful pan-European commercial bank with a fully plugged-in Corporate and Investment Bank (CIB), delivering a unique Western, Central and Eastern European network to our extensive and growing client franchise. In line with our values, Ethics and Respect, we are committed to doing the right thing for all our shareholders, clients, colleagues, communities and the environment, to make sure that UniCredit remains a pan-European winner.
Sustainability Strategy
At UniCredit, we remain fully committed to sustainable value creation for all stakeholders. Our commitment to always "do the right thing" is our guiding principle for interactions with all our stakeholders, to generate sustainable results.
Our values unite us and define our Group culture, how we make decisions and how we act on them. As One team, One UniCredit, we are convinced that our two values, Ethics and Respect (E&R), represent what is most important for the Group and for all our stakeholders today; Our set of commitments and targets covering Environmental, Social and Governance (ESG) demonstrate how sustainability is part of our Group DNA and is fully integrated in our business strategies.
Learn more on the UniCredit Group website.
Integrated Report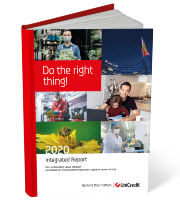 See our Integrated Report and our Capitals