IziPay
The easiest way to send and receive money!
Send and receive money for free.
Choose a recipient from your telephone directory.
IBAN not required.
The recipient can have an account in any bank in Croatia, and does not need to be a Zaba client.
How to transfer money using IziPay?
Download new m-zaba version and activate the IziPay functionality in your m-zaba mobile app.
Then, to transfer money, enter the amount, choose the recipient and the reason for the payment. You don't have to enter the payee's IBAN - just select their phone book contact, or enter mobile phone number of recipient.
If the recipient hasn't used IziPay yet, they will receive an SMS with instructions on how to accept the money.
You can check your payments at any time – both transactions waiting to be effected and the completed ones.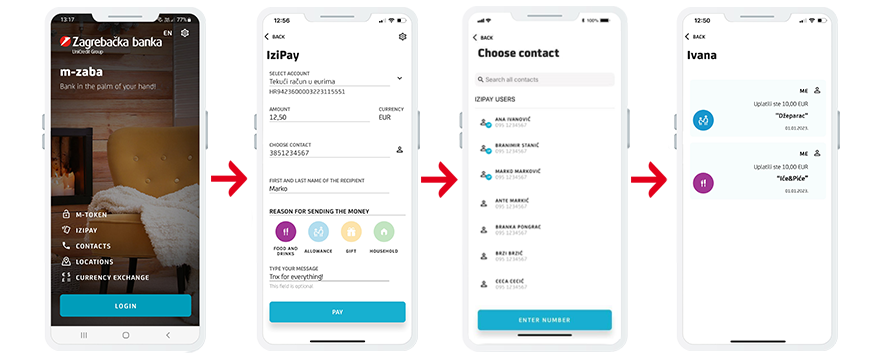 Receiving an IziPay payment
For a payment to be made, the recipient has to connect their mobile phone number to the IBAN of the account to which they want to receive payments. To do so, they need to:
register in m-zaba as the recipient for IziPay mobile payments, which is free of charge,
or select the link in the SMS for a one-off online payment.
When the mobile phone number and IBAN are linked, and if the payer has sufficient funds, the money will be transferred to the recipient's account.
IF YOU ARE AN M-ZABA USER
choose IziPay on the m-zaba home screen and accept the Terms of Functionality Use.
IF YOU DO NOT HAVE M-ZABA
download the m-zaba mobile app and choose the "I only want IziPay" button. You do not have to be a client of Zaba.
How to active IziPay if I want to send money to someone's mobile phone number?
What is the IziPay register?
I want to transfer money using IziPay to my friend who is hot IziPay user. How will he know I made the payment and what does he need to do to receive the payment?
I transferred money to my friend through IziPay, but she says she hasn't received anything. What happened?
My child is going on a senior trip and I would like to send him more money, if required. Can I do that with IziPay?